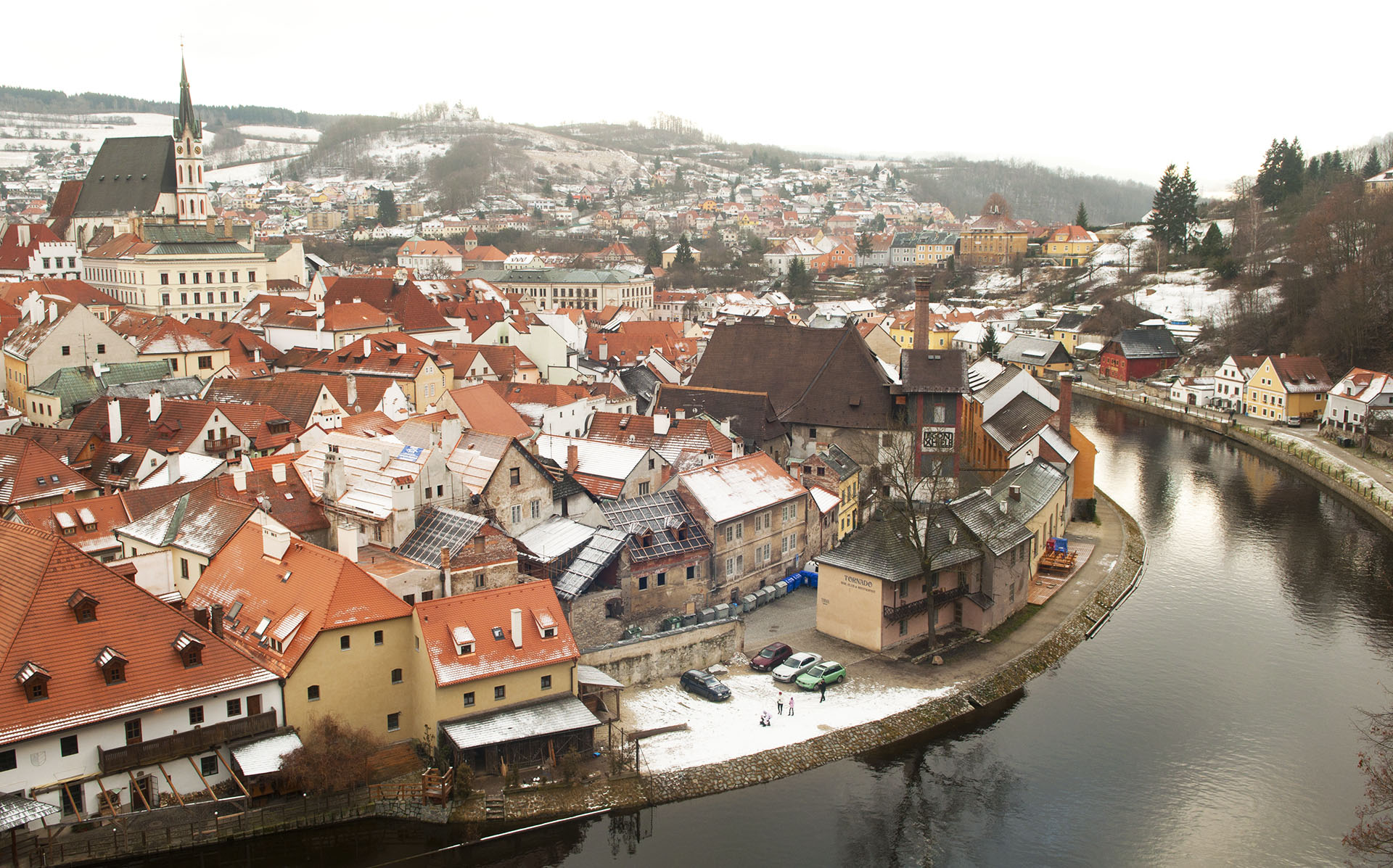 Český Krumlov (translated to mean "Bohemian crooked meadow") is a picturesque medieval town located about 2 hours drive from Prague in the Czech Republic's South Bohemian region. This charming little town has organically developed around the crooked meander of the Vltava River and is towered by a 13th-century castle. Despite an 800 year history, the town has been relatively undisturbed and remains today a magnificent showcase of Gothic, Baroque and Renaissance styled art and architecture.
At the time of my visit, it was a cold and snowy day in Krumlov. However, it was also one of the best times to visit as the place was even more magical when peppered with light snow. In the heart of the town, cobbled streets radiate from a central square and is crowded with buildings decorated with Renaissance and Baroque facades. The Krumlov Castle is a marvel on its own. It features a Gothic Hradek round tower which has been converted to a Baroque chateau. Intricate frescoes adorning walls within the castle courtyards are vibrant in colour – as if they have been painted just yesterday!
Although much of the beauty is above ground, an artsy side to Krumlov lay in the cellars beneath the IVth Courtyard of the castle. Here, it is home to the Czech Ceramic Design Agency, an art organisation that plays an important role in coordinating exhibitions of works by its members and other Czech ceramic artists. At the time of my visit, some very curious artworks were on display. Sculptures by the Czech artist Miroslav Páral, have a grotesque, out-worldly beauty about them. Some of his works are the jawbone basins and a collection titled 'Expulsion from Paradise' that feature gargoyle-like creatures. The finger street lamp sculptured by Páral and Ivan Jelínek is also just as fascinating.
Declared a World Cultural and Natural Heritage site by UNESCO, there is certainly much to treasure about this little gem of Bohemia.